I ran into the problem a couple of months back that our web server was overcharging us because of the amount of hits on images we were hosting. And... most of that turned out to be on here. I would have relied on photobucket, but there's that whole no-porn thing and the fact that my account kept getting too many views.
Unfortunately this lead to the death of my sketch journal. I can't update it without a host, and this makes me very sad. :( I have a ton of sketches and work-in-progress things that I can't show!
But I do have a long shot solution, since I do have a tumblr account! But no one watches me on there, and I don't post art on it because of that. Never ending cycle there!
So I figured if anyone wants to see my sketches still, give me a shout and I'll start updating that account more frequently with them. :)
Here's some art in the meantime, the sketch for our current advertising image for Tripping Over You (which is still going strong, by the way!). In fact, you can click the image to get caught up on the story, if you'd like. :)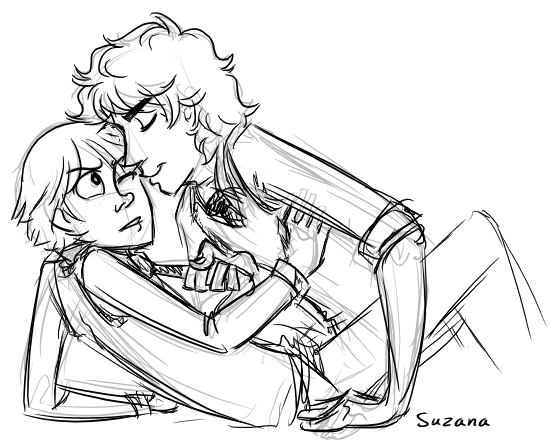 And if you want to follow me on tumblr, please feel free to!
http://suzona.tumblr.com/
See you around!